features the constant-current charge which extends the lifespan of the battery">
HESENY Intelligent Charger
HXY-18650-2C

18650 HESENY latest smart-slot charger. Specially designed
for 18650 rechargeable batteries, Multiple modes wide voltage input; Low noise,
the HYX-18650-2C features the constant-current charge which extends the lifespan
of the battery. The built in advance safety features ensure your safety and the
health of the battery. Built-in short circuit, overload, over voltage, over
current protection.
Included car adapter, you can charge your batteries on the go.
Features
Constant-current charge.
Support AC charging and DC charging. Charge on the go with the included car
adapter
Advanced safety features: Short-circuit protection, over current protection,
reverse polarity protection, overcharge protection
Two independent charging channels. Charge 2 rechargeable 18650 batteries at the
same time
Two LED indicators displays charging progress for each battery
Input: 100-240 V (AC), 50/60Hz, 200 mA (max) 12V-24V (DC), 1000mA (max)
Output: 4.2V (DC), 2 x 1000 mA
Size: 88m x 87mm x 26mm (Length x Width, x Height
Weight: 110 g (excluding batteries)
Operating conditions: Humidity (Temperature) 5% (0 degrees C) – 90% (40 degrees
C) (Full-load in normal working condition)
Storage conditions: Temperature: 20 degrees C – 85 degrees C
Product Rating: CE, PSE, SAA, RoHS, CB, GS, FCC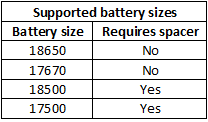 The charger can handle 69
mm long batteries including flat
top cells.


Package include
1x HXY-18650-2C Charger Boxed Packed
1x Car Charger Cord
1x AC Chord